Front Load/Discharge
These trucks can carry up to 10 or even 11 cubic yards pending on customers order. These trucks are Oshkosh Mixers and are the largest & heaviest units in the fleet. They are completely operated by the driver meaning no swinging chutes by the contractor, it is all done from inside the cab. They are capable of reaching up to 20' if the mixer can pull right to the edge of the forms. NO EXTRA CHUTES CAN BE ADDED ON TOP OF WHAT THE TRUCK CARRIES. Empty the mix weighs 38,000 lbs. They tend to be 13' 3" tall so they would need a 14' door and are 40' long.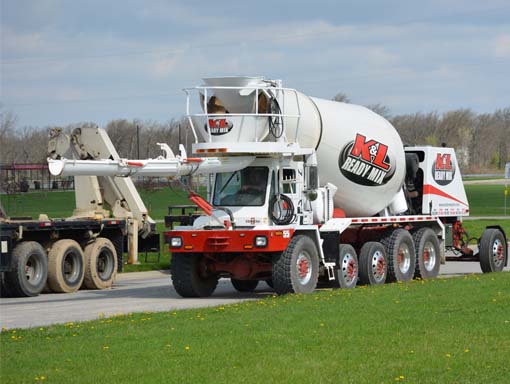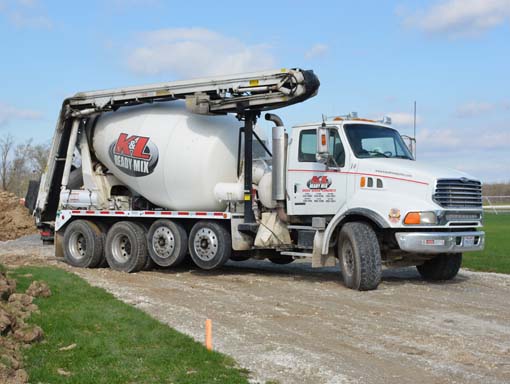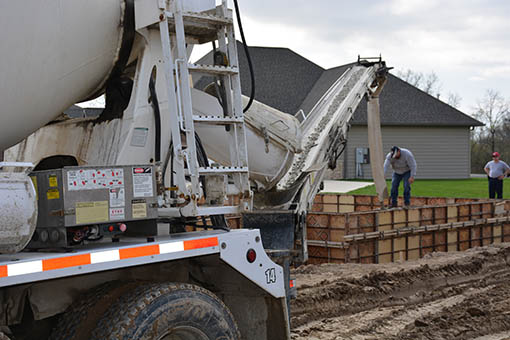 Conveyor
These trucks are the most sought trucks in the fleet. Pending on barrel size, they can carry 9-11 yards, again pending the job and conditions. Most contractors that inquire about using conveyors need to call several days in advance. Many times, the conveyor trucks can be booked all day for just 1 job. Usually less cost than using a pumper truck, conveyors can dump their concrete off and other trucks if the site conditions allow. These trucks are rear discharge; however, they have a trifold 40' belt on the side. This truck does not have chutes that are cab controlled so that means a contractor may have to dedicate a person to swinging them when pouring. The 40' boom for the conveyor is ran all by the driver, other than the boot which is to be ran by the contractor.
The driver will show up to the job and then start unfolding the belt. Once unfolded, the contractor can back the driver where they need the load placed. Sometimes it can require backing the conveyor through a walk-in door or even a window. If the driver feels they are safe enough to do that, they can put the conveyor belt almost anywhere. Empty these trucks weigh around 33,500 lbs. They sit between 12'-13' tall and are roughly 30-35' in length.
Rear Discharge
Although our conveyor trucks fall under this category, these trucks do not have conveyors and came out of our old fleet. They are great for short doors as they only sit a little over 11' tall so they work perfect for 12' doors. These trucks too, unfortunately have chutes that must be controlled by a dedicated person supplied by the contractor. Easily the lightest trucks, they weigh roughly around 28,000 lbs empty. Also the shortest, these trucks vary between only 25 & 30' in length.