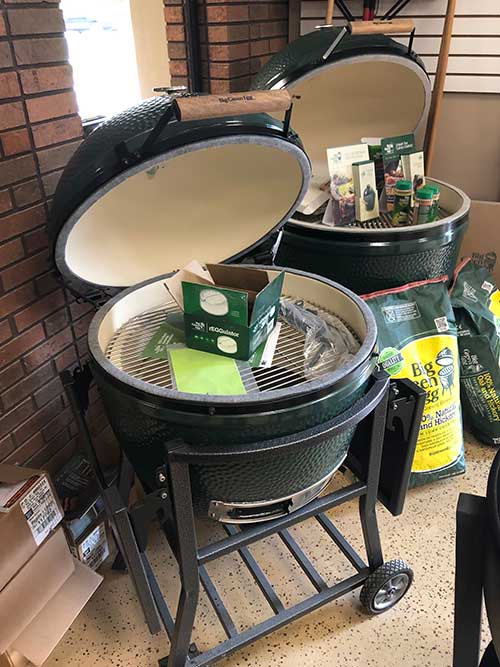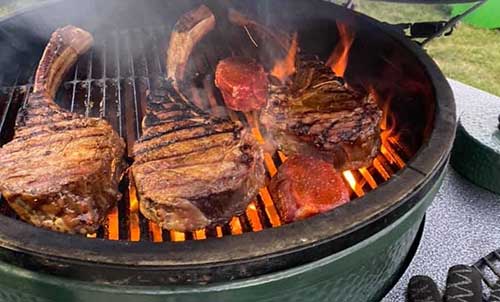 GREEN EGG GRILL
Crunchy, smoked & roasted pork butt. Herb seasoned, slow 18 hour roasted, juicy prime rib. Grilled & Barbequed chicken halves. Smoked ribs dripping with barbeque sauce. Freshly smashed hamburgers with newly picked ears of sweet corn. Do these sound appetizing? How about pizza cooked at 600°F with crispy crust and bubbling fresh mozzarella cheese? On a Green Egg, these are only the limited possibilities. Use your imagination as to all the culinary creations that can be crafted. Weather it be searing directly over the fire at over 600°F, in-directly at lower temperatures or even smoked for many hours, one can only being to experiment.
Green Eggs are some of the most versatile pieces of cooking equipment. Made of a hardened porcelain, they can take high temperatures or cook at a regular heat for long hours. They come in many different sizes, all depending on the size of the grilling space and the amount of meals  being prepared. The Big Green Egg obviously has it many uses in its normal use, but there are also many extra cooking utensils that can be utilized in preparing food. There are Pizza Stones, Cast Iron Grilling Grates, Rib Racks, Basting Equipment with Injectors and even Digital Thermometers and WiFi Interactive Temperature Control to help keep your Big Green Egg at a regular cooking temperature.
K & L has been a distributor of Big Green Egg products for over 10 years and enjoys being the most competitively priced in NW Ohio. K & L proudly enjoys being able to send out Big Green Eggs all across the United States as well. We have shipped from Washington State to Nevada, Maine down to Florida and yes, even Michigan. Please contact us about any details. Happy Smoking, Delicious Cooking!
We have all the Eggcessories you will need to pair with your Big Green Egg purchase.